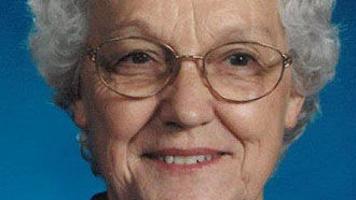 A. Ramsey Boots | Obituary
BRISTOL, TN – Boots A. Ramsey, 86, of Bristol, TN, died at Franklin Woods Hospital on Thursday, October 7, surrounded by her family.
Boots was born in Sullivan County and graduated from Bluff City High School with Honors in 1955. She was a housewife and retired from the Sullivan County school system (Mary Hughes School). Boots was a member of the New Bethel Presbyterian Church and Chapter 414 of the Order of the Eastern Star of Bluff City. She was known for making her famous mints and crocheting afghans for all occasions.
Boots was predeceased by her parents, James and Elizabeth Fox Childress; her husband, Donald Ramsey; siblings, James Childress, Jr., Nell Vaughn, Jack Childress, Bettie Campbell, Bobbie Childress, Joe Childress, Gene Childress, Jerry Childress, Brinda Childress and Beverlie Childress.
Boots is survived by his son, Eddie (Sharon) Ramsey; daughter, Linda (Jim) Penley; grandchildren, Nathan (Ashley) Penley, Matthew Ramsey, Emily (Chris) Corey and Michelle (Daniel) Fuller; six great-grandchildren, Easton Corey, Leanna Penley, Emma Grace Corey, Hudson Fuller, Audra Penley and Oliver Fuller; siblings, Billie Littrell, Barbara Campbell, Beatrice Bagwell, John Childress; and several nieces, nephews and cousins.
The family will receive friends from 5 p.m. to 7 p.m. on Monday, October 11 at New Bethel Presbyterian Church and a service will follow at 7 p.m. with Dr. Angus Shaw and Minister Scott Wise officiating. The funeral service will be held Tuesday at 11 a.m. at the New Bethel Presbyterian Cemetery.
The bearers will be Nathan Penley, Matthew Ramsey, Chris Corey, Daniel Fuller, Ron Ramsey, Scott Ramsey, Hank Hare and Marvin Johnson. Honorary bearers are Vic Burdine, Simon Barr, Mike Miller and current and retired Mary Hughes School staff.
Memorial contributions can be made to the New Bethel Church Cemetery Fund, c / o Carolyn King, 1291 North Pickens Bridge Rd., Piney Flats, TN 37686 or Mary Hughes School, 240 N. Austin Springs Rd., Piney Flats, TN 37686.
The family would especially like to thank the following, Tasha Cornett Hall-NP, Kelsey Coggins-RN, Addie Lacker-RN, staff on 2nd and 3rd floors at Franklin Woods Hospital, Brittany Perry-RN and staff at Princeton Assisted Life.
Please visit www.hamlettdobson.com to leave condolences online to the Ramsey family.