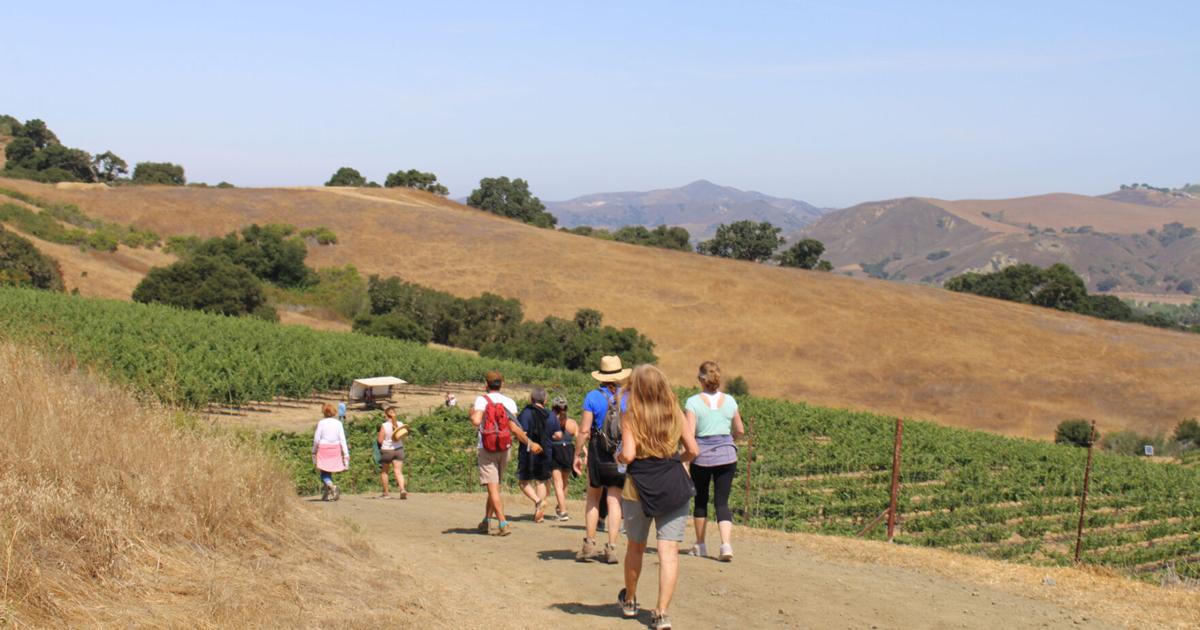 Hikes Enhance the Wine Tasting Experience at Alma Rosa Winery | Lifestyles
A Santa Rita Hills winery has taken advantage of its hillside vineyards to add the new element of physical activity to the wine tasting experience on its 628-acre estate.
Alma Rosa Winery recently added two wine tasting hikes available by appointment at its El Jabali estate, located in the Sta. Rita Hills American Wine Country.
Debra Eagle, general manager of Alma Rosa Winery, said the "invigorating and strenuous" hikes through the vineyards are a perfect complement to a private tasting in the winery's Ranch House.
"Owners Bob and Barb Zorich and I are health enthusiasts, and we love sharing the ranch with guests who share our passion for physical activity and, of course, fine wine," Eagle said.
The new tastings and hikes, one dubbed Caracol Hike and the other Waiting Hike, vary in length and intensity, each showcasing a different facet of the property, she said.
Both hikes require sturdy walking shoes, Eagle said, adding that sunglasses, hats and layers are strongly recommended.
Either hike requires 48 hours notice.
The Caracol Hike is an approximately 1 mile round trip with a steep climb to the winery's block of Caracol vineyards, which was planted by winery founder Richard Sanford, the first to plant pinot noir grapes in the Santa Rita Hills in 1971.
The Caracol block was planted in a unique spiral shape using various clones and rootstocks in a radiating pattern, giving each row a different orientation towards the sun, Eagle said.
Visitors will begin with a touch of wine and continue tasting with views of the valley from the top of Caracol, then conclude the tour with additional tasting and a cheese plate at the Ranch House.
The Caracol hike starts at 10 a.m., takes about two hours, and costs $75 per person.
Starting at the Alma Rosa ranch house, the Awaiting hike takes visitors through pinot noir vineyards, open meadows and oak forests to the highest vineyard planted with grenache and syrah.
The summit offers stunning views of the Santa Rita Hills and the southern mountain range, Eagle said.
Covering just over 2 miles, the Waiting hike begins with a taste of wine at the Ranch House, another in the Waiting block, and ends at the Ranch House with a cheese plate and three more wine offerings.
The hike starts at 9:30 a.m., takes about three hours, and costs $95 per person.