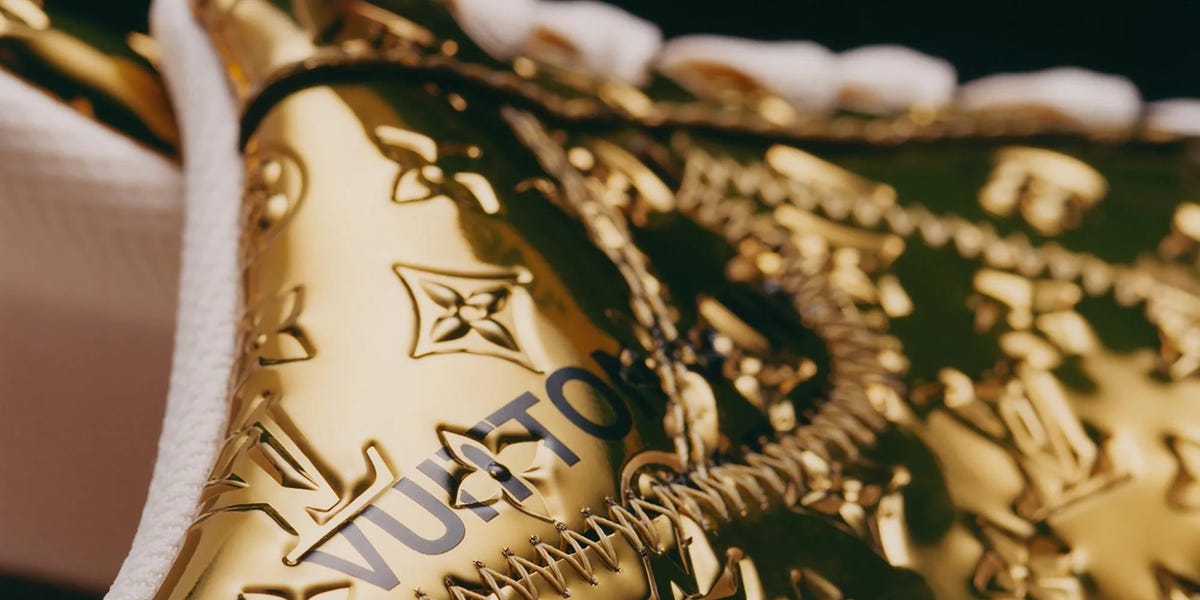 How sneakers are finally reaching art prices
There have always been sneakers that sell for astronomical prices. On StockX, someone is asking for $257,000 in exchange for a size 9 Nike MAG Back to the Future. A size 11 Nike Dunk SB Low Paris could fetch even more: $356,000, if the seller gets his claim.
Pairs like these — country-exclusive drops, rare vintage styles, or limited-edition collaborations — fetch high prices due to their rarity and are rare occurrences in and of themselves; they are not all this popular outdoor sneaker hoops. People don't wear these sneakers. They hardly show them.
But there's a new sneaker — well, a series of sneakers — that people can't wait to collect. and flaunt. This is arguably the sneaker industry's first global success: Louis Vuitton's Nike Air Force 1. The first edition featured the full Louis Vuitton monogram, accented with brown checkerboard. Limited to just 200 pairs, these sneakers were sold by Sotheby's, in an auction to benefit the Virgil Abloh "Post-Modern" Scholarship Fund, an organization that offers fashion scholarships to students of black, afro descent -American or African. At the end of the auction, Sotheby's was pleased to present a check for $23.5 million, or $118,000 per pair.
But the late designer did more than just one. In total, he designed 47 different iterations of the Nike Air Force 1 using materials from the last Louis Vuitton show under his direction. Needless to say these are not Standard Air Force 1 (although Nike is working on improving the base AF1). Only 21 will reach the general public, and their retail price turns out to be much higher: $2,750.
If you look through the first batch, which featured nine of Abloh's designs, you'll find that they're not that different from pair to pair. These are different flavors of the same sweet treat – the colors change, but the base remains. There are a few exceptions, like the shiny Metallic Gold pair (seen above) or the mixed-material Black Metallic Silver pair, but they're clearly part of the same collection.
In a way, the experience was Warholian – and Abloh often drew comparisons to the pop artist. For this collection, Abloh, much like Warhol did with his portraits, started from a blank but adaptive canvas. This allowed him to create multiples of the same piece using different colors and patterns – and quickly. There is power in numbers and artists with a lot of work can fill museums.
Nike proved this by building Abloh a posthumous gallery inside the Greenpoint Terminal Warehouse. There, from May 20 to 31, all 47 versions of the Louis Vuitton Air Force 1 were on display. They were anchored to industrial facilities, stored in display cases and placed on pedestals. Unlike a retail store, where the shoes are neatly lined up next to each other with their outsoles flat on the shelf, here they hang there like art on the wall.
Other sneakers have seen the inside of a museum before: There are plenty of Nikes (and Jordans) at the National Museum of African American History and Culture. There is a pair of Keds in the National Museum of American History. But Abloh's new set is more than historically significant – it's utterly appealing when viewed in its entirety. Of course, one could notice through the lines of the Jordan sneakers if they were all presented next to each other, but they don't quite paint the picture like the Nike group and Louis Vuitton.
They worked well together in the Nike facility, and there's reason to believe they could do a tour like this – especially considering the popularity of Abloh's posthumous Brooklyn show. Museum, Figures of speech. On opening day, the merchandising was the main draw, but her show is hugely popular. It will remain open until January 2023. And now that the Louis Vuitton Air Force 1s are part of its canon, it is possible that they will appear in its next posthumous exhibition, cementing them as the most important shoe design in the world of art.
This content is created and maintained by a third party, and uploaded to this page to help users provide their email addresses. You may be able to find more information about this and similar content on piano.io