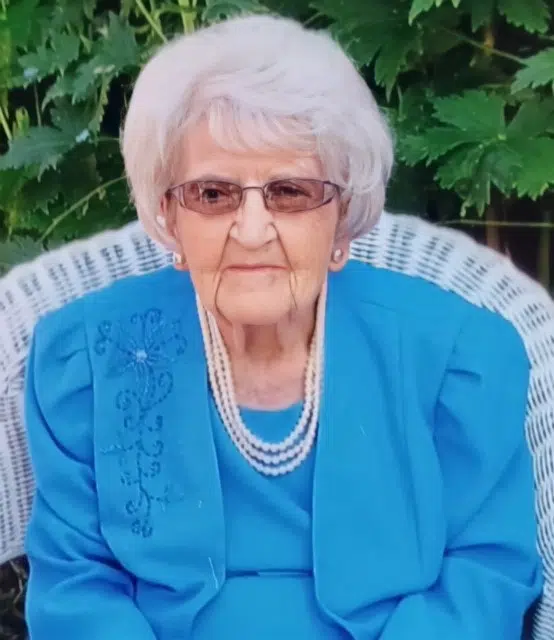 The family of Julia Pacholko, of Prince Albert and formerly of Yorkton Saskatchewan, beloved wife of the late Matthew Pacholko, announces with sadness her passing on Friday, July 22, 2022. She was 104 years old.
Julia Clara Pacholko (née Smereczyńska) was born on October 26, 1917, to Michał Stanisław Smereczyński and Anastazja Smereczyńska (née Osmak) at the family estate near Willowbrook. Michał & Anastazja immigrated to Saskatchewan from Austrian Galicia in 1903. She was the youngest of six children and the last surviving member of this generation.
Prior to immigration, Michał lived in Radymno, Galicia and served as a sergeant in the Austro-Hungarian cavalry. A man of many talents, he also manages the family farm and manufactures shoes; he inherited his abilities from a long line of highly skilled cobblers/leatherworkers on his father's side – going back at least five generations. At immigration, he was offered a job at CN Rail like his brothers Nick and John, but instead opted for a hard life as a farmer; he wanted the freedom to be his own boss and no longer wanted to work for an employer. Mom recalled that he was a very gifted violinist and frequently entertained his family and neighbors with his music. His mother Anastazja was born into a farming family in Wietlin, Galicia. A strong, stoic woman of exceptional kindness, she faced head-on the hardships of agriculture on the Canadian border.
Mom attended Radimno School until eleventh grade, when her skills were more needed on the family farm. She was a diligent and brilliant student and had always wanted to be a teacher. She was a polyglot, speaking English, Ukrainian, Polish and even a little German as a child. She was a parishioner of the Jaroslaw Church near their farm and shared many happy memories such as blessing the Paska on Easter. She also fondly remembered her grandfather Andrew Spilak arriving with a team of horses carrying bells to the little church, bringing hot muffins that her grandmother Parascewia (Pearl) (née Stankiewicz) had prepared for the concert children's Christmas. Mom was extremely proud of her Ukrainian and Polish ancestry and instilled that pride in her family. She said the prayers, sang the songs (many in Ukrainian) and recited the verses she had learned in school when she was little, until her last day with us! She remembers her grandmother Ewa taking her skiing in the winter when she was a child, and remembers the days she lived with them as some of the happiest of her life. His grandmother joined them on the farm in 1924.
Mom came from a close family, something that hasn't changed over time. They were both his parents and his best friends. She often spoke of the disappearance of her parents and siblings and recalled the many happy memories they shared. There is no doubt that Mom inherited her caring and caring demeanor, her passion for music and singing, and her unwavering determination from her parents; like them, she met life's challenges with contentment, strength and determination. She was a woman with unwavering faith in God; ever grateful to himself for the smallest blessings, and accepted the tragedy and sadness that came her way.
Mom was married to Matthew Clarence Pacholko of the Jedburgh area on June 13, 1943 at St. Mary's Ukrainian Catholic Church. The couple had four children: Clark (1945), Dean (1948), Janice (1958) and their most precious daughter Judy (1960). She was then delighted to become the grandmother, the great-grandmother and the great-great-grandmother of many other children! Matthew was a teacher and the two resided in several small communities in Saskatchewan during his teaching career. Mom successfully met the challenges of creating a home, cooking and cooking, planting a garden, and raising chickens and ducks for her family at various schools, sometimes residing in teachers' residences. Some of the schools where Dad taught were Aysgarth in Insinger, Horse Lake, Macnutt, Walkerville, Willowbrook, Midale and Kipling to name a few. Mum played a vital role in Dad's teaching role, frequently helping him write plays, prepare scripts and songs, and make costumes for the students. She was an excellent seamstress and also sewed dresses for the women of the communities in which they resided.
During her lifetime, Mom was a parishioner of St. Mary's Ukrainian Catholic Church, a member of St. Mary's Church Choir for many years, and enjoyed Christmas concerts and singing among parishioners. She was a life member of UCWL and participated in meetings, fundraisers, etc. She also enjoyed volunteering at St. Mary's Old and New Halls for weddings, funerals and special events. Mom played in Yorkton Senior's Kitchen Band. She was a member of the Superannuated Teachers of Saskatchewan (joint), a big supporter of Telemiracle and a former member of the Saskatchewan Association for Community Living and the Yorkton and District Horticultural Society. Mom possessed a keen interest in current affairs and politics and faithfully watched the news and read the newspapers. She was a wonderful cook and an avid gardener until the age of 94, feeding her family for many years with her produce. She grew beautiful flowers and fruit trees and generously shared her apples, plums and raspberries with others to enjoy. She was a real homebody, but her son Dean and stepdaughter Diane convinced her to come with them on the trip of a lifetime to see her dear niece Eleanor Pearson in California, Disneyland, the Pacific Ocean and many more. States in 1981. She had a very exciting time and spoke so fondly of those holidays in the years that followed.
In March 2013, due to changes in her health, mom moved to Prince Albert to reside with her daughter Janice, son-in-law Bob, grandson Clark and granddaughter Lauren and their puppies. She spent many happy years in her new home and her family always felt blessed to have her with them. Mom transitioned into life in Prince Albert with her usual positive attitude and grace. This was greatly facilitated by the warm welcome he received from the staff at the Herb Bassett Adult Day Center Roxanne L., Shirley U., Dawn. T. and all the new friends she has met while participating in the program. Mum's regret has always been that due to the pandemic she was unable to visit her dearest daughter Judy in Yorkton, with whom she shared a close bond and who she greatly misses!
As the family reminisces about Mom's long and rich life, one of her many amazing qualities was her sense of humor. Her grandchildren fondly remember joking and laughing with her late into the night. His insights and witty remarks were always welcome, especially in difficult situations, and reminded his family that finding humor in any situation was the best antidote to pain and heartbreak. Mom's moral strength and sense of right and wrong guided everything she did, no matter how difficult. Faith, honesty, kindness, determination, acceptance and fairness – the legacy she left to her descendants rests on these foundations. The way she lived her life challenges us all to be kinder, stronger and more virtuous; to lift us up and become the people we are meant to be.
Mom was predeceased by her parents, five siblings Frank, John, Sophie Popovitch, Baby Mary, Mary Lemchuk, husband Matthew and son Clark. Left to mourn his passing are his son Dean (Diane) Pacholko of Calgary, his daughter Janice (Bob) Northey of Prince Albert, his daughter Judy Pacholko of Yorkton and his daughter-in-law Linda Pacholko of Kelowna, British Columbia, as well as all his grandchildren. , great-grandchildren and great-great-grandchildren, nieces, nephews, cousins ​​and friends.
The family would like to give special thanks to the doctors, nurses and Shannon and the physiotherapy team at Yorkton Regional Health Center for the wonderful care they provided to Mom in 2011-2012, as well as Yorkton Homecare. Our family is very grateful to Prince Albert Homecare for their continued support and expertise, especially Nurse Michelle S. Additional sincere gratitude to Dr. S. Ali, Internist, for her years of providing optimal care for Mom, as well as emergency department personnel. , Dr. B. Sauvé and Dr. J. Kondi and the staff on the 5th floor of the Victoria Hospital in Prince Albert for their excellent and incomparable care.
Вічная Пам'ять – Eternal memory