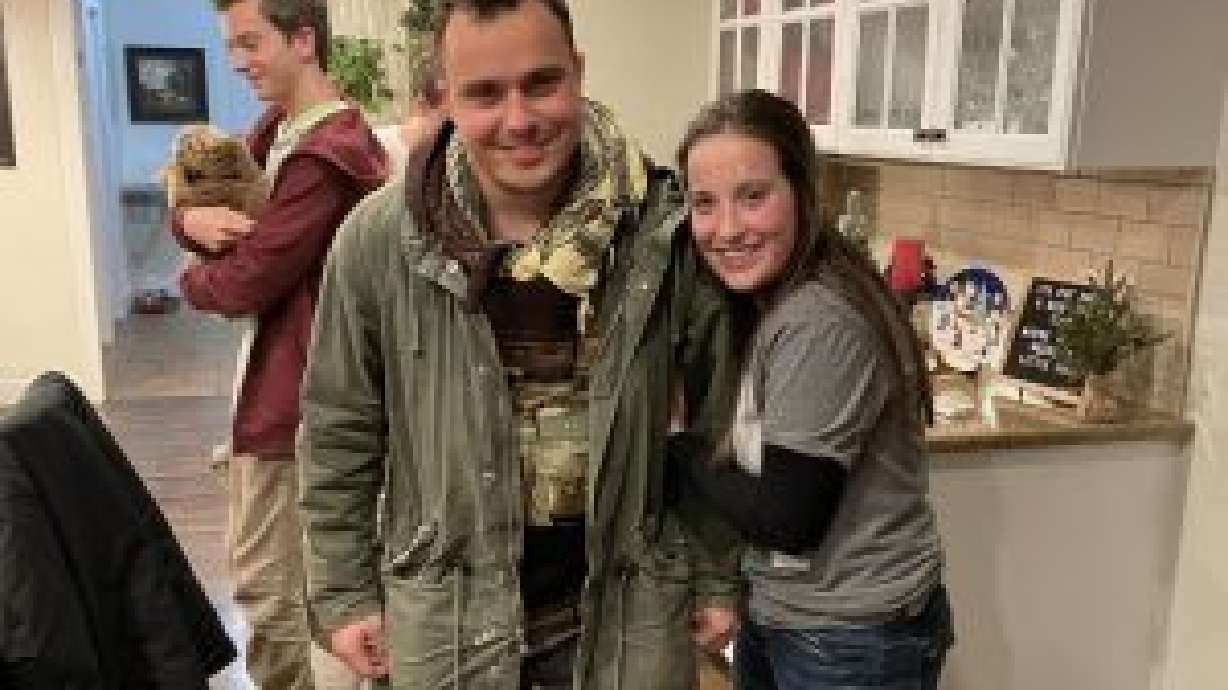 Provo man stranded in mountain snowstorm for more than 30 miles for help
Ethan Hunt returns home after being stranded. (Hunting family)
Estimated reading time: 6-7 minutes
SIMPSON SPRINGS, Tooele County – A Provo man recovers and feels grateful after traveling more than 30 miles after being stranded overnight in the mountains in a snowstorm, leaving his family worried and looking for him the day before of Christmas.
The family said they also felt grateful, especially for the team of volunteer searchers who came together to find Ethan Hunt before he spent a second night trapped outside in the cold.
Hunt loves to hike. His family considers him to be experienced in the outdoors. He carries a survival kit in his car with supplies to stay safe in an emergency, and usually leaves a detailed route of where he's going in case something happens.
On Thursday, Ethan left for a short hike, to a place he has been several times in the Western Desert. Everyone was busy with various Christmas week projects, and no one was home when he left.
He drove to an area in the mountains of Tooele County, south of Dugway, near Simpson Springs.
The hike went well, but Ethan shared how, as he made his way home, he decided to take an alternate route he had never taken before on Erickson Pass.
His four-wheel-drive car slipped a bit in an uneven spot and Hunt got stuck in a snowbank. He tried to dig in and got stuck in an even deeper part of the fin.
"I realized that I was not going to get away with what I have with me," he said.
Without cell service and knowing that no one knew his whereabouts, Ethan decided he should go out and try to get help. However, a snowstorm was setting in and he knew it wouldn't be a good idea to go in these conditions.
"I spent the night in the car," Ethan explained. "It was a little strange because it started to snow quite hard."
At around 2:30 a.m., when the snow subsided, Hunt loaded his backpack with supplies, including extra clothing, socks, military field rations, known as MREs or ready-to-eat meals, bottles of water and a water filter that would allow it to draw water from the soil.
He used the packaging of an MRE to write a note in case someone looked for him and found his car.
"I left a note in my car just saying where I was going, that I had extra food, water and clothes, that I wasn't freezing to death or anything," explained Hunt.
Back at his parents' house in Highland, concern set in when Ethan did not return that night.
"We were starting to think, 'This is not normal. I wonder where he went. I wonder if he went any further or if he had any car issues, "said his mother, Mandy Hunt.
They called the Lone Peak Police Department that night, but were told that since Ethan is an adult, the family would have to wait 24 hours to report his disappearance and ping his cell phone.
Around 10 a.m. on Christmas Eve, when Ethan was said to have left for this hike, they made this report.
A cell phone ping returned to a tower near Dugway.
Once the general location was confirmed, the volunteers were quick to step in and help the Hunt family with the search.
Ethan's father Shawn Hunt enlisted Tooele County Sheriff's Office, Juab County Search and Rescue, Utah County Sheriff's Search and Rescue Office, Office of Management land, family and friends, all of whom gave up what they were doing with their families to join.
Hunter Crandall, Ethan's cousin and Shawn's nephew, knew someone with a helicopter who is also a search and rescue volunteer. They jumped into a helicopter in less than half an hour. Crandall said they were communicating by radio with a SAR plane from the Utah County Sheriff's Office for aerial search.
"We were flying over grids, we were flying over mountain benches, we were checking out canyons, we only had a good two hours without luck," said Crandall.
Eventually, the plane spotted a vehicle near Erickson Pass. Crandall said the helicopter pilot Brian Trapnell walked over to take a look.
"We've made it over that ridge, and there you have it, there's Ethan's car in the middle of the trail," he said.
They found Ethan's note, which read, "Car stuck in snow. We drove east with extra food, water, and clothing. – Ethan Hunt."
They could see footprints coming down the road into the valley.
They are reloaded into the helicopter and followed the footprints. Crandall said they land whenever the road hits an intersection, so they can track which direction Ethan has turned and fly in that direction.
Night has started to fall again.
The helicopter was out of fuel. At around 7:30 p.m., as they turned to return to Spanish Fork, Crandall spotted something flashing.
"At the last second I happened to look back towards the trailhead, and I could see a red light flashing, like SOS, like 1, 2, 3, then it would go out and it would flash," said Crandall.
It turned out to be Ethan's headlamp.
Hunt said he periodically flashed his headlamp in the hopes that someone would see it as he walked. By this point he had walked for 17 hours and had driven over 33 miles in his car.
Crandall and Trapnell asked the Utah County SAR plane to determine the coordinates and send them to Juab County deputies, who quickly made their way to the location.
Hunt said he could see headlights flashing towards him.
The deputies came out and Ethan knew he was going home for Christmas Eve.
"The mud was absolutely thick. There were places where I bumped in the mud up to my ankles, and with that my shoes and socks got wet, and that caused more blisters," Ethan said. "And so, I was pretty tired by the time they found me, so it felt good."
These Juab County MPs urged Ethan to join his family in Nephi. He was sore and tired from walking so long and so far, but in a good mood. He was able to eat his MREs while walking and said he filled his water bottles from puddles on the ground and used the filters to drink.
This is the only time the family said Ethan hadn't let anyone know where he was going, they explained how they would make sure he always leaves his hiking plans with them before going out.
Mandy described how grateful the family was to everyone who gathered on Christmas Eve to find her son and bring him home.
"Everyone was just very, very happy to see him," she said, adding, "The best Christmas present ever, to find him and to be safe."
×
Pictures
Related stories
More stories that might interest you