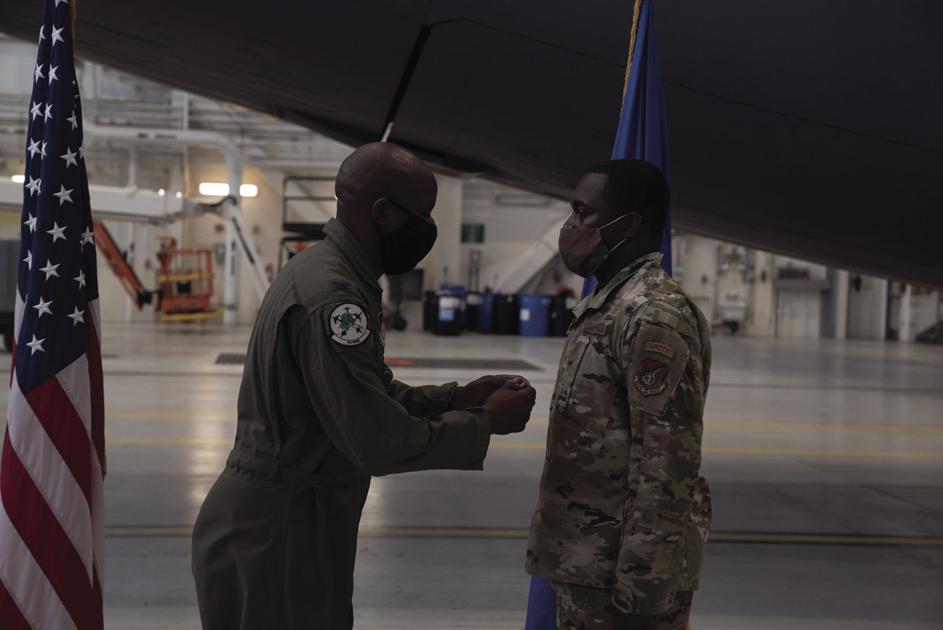 St. Croix Air Force Staff Sergeant receives medal for recovery from 1952 crash | Local News
When the US military promises to leave no one behind, no matter how long it takes, that wish is taken seriously. Sixty-nine years after a military transport flight crashed on Mount Gannett just north of Anchorage, Alaska, Air Force E7 Master Sgt.Wade McFarlande Jr. and his recovery team damaged or disabled planes are still picking up the pieces – literally.
The C-124 Globemaster was en route from Fort McChord, Washington, to Elmendorf Air Force Base in Anchorage when it crashed in 1952 in bad weather. All 52 crew and passengers were killed.
Although the Air Force knows the general area where it crashed, by the time a search team arrived two weeks later, the plane was covered in heavy snow and could not be located.
During a training mission in 2012, the Alaska National Guard spotted the wreckage of the plane embarked on the Colony Glacier. Since then, teams have been sent every year to recover debris and human remains. From 2012 to 2020, 44 bodies were found, and at the end of this year's search, a mortuary affairs team announced that another body had been identified among the remains found the previous year.
McFarlande, a native of St. Croix, son of Wade and Aretha McFarlande, joined the Air Force in 2004 after graduating from St. Croix Educational Complex High School, with the intention of seeing the world and being make a name.
His first base was in Fairbanks, Alaska, where he worked as an aircraft mechanic crew chief for F-16 aircraft. He was deployed to Iraq in 2008 and moved to Moody Air Force Base in Georgia in 2009 to work on A-10s. He was deployed to Afghanistan and then spent a year in Korea working on A-10s before being stationed in the UK, working on the new F-22 fighters.
McFarlande then decided to join a recovery team from damaged or disabled planes as a team leader.
"If a plane crashes, we'll go pick up the pieces, or if an airplane has an in-flight emergency, like an engine or hydraulics malfunction, we'll meet them on the runway and clear them off the runway. If the plane crashes on the runway, we determine if the plane is recoverable and need to recover as much as possible off the plane, "explained McFarlande.
The effort of the McFarlande team at Joint Base Elmendorf-Richardson to recover the Globemater and its victims from the glacier was honored earlier this month with a Common Service Medal.
"We're the only ones in the Air Force doing this right now, which has such a unique mission, where we go to a glacier and collect all the parts, because planes don't crash into a glacier every day. . Said McFarlande.
Due to the weather, the team can only visit the wreck for less than a month each year in June and must first take a crash course in mountaineering, learn how to climb and push back on ropes, how to recover debris with rigging, how to walk on glaciers. with crampons and how to know if it is safe to walk on ice.
"It's very dangerous. It can take a fraction of a second before something goes wrong. We are dealing with melting glaciers. One day the ice seems perfectly hard. The next day, just at sunrise, it there's a lot more running water and the ice looks a lot smoother to the eye, "said McFarlande." Every step we take when we're there for eight or nine hours, it must be an intentional step. We walked on the glacier when it moved over us.We had some crevasses open while we were there and the sound, it's pretty scary.
According to McFarlande, the team found 5,500 pounds of plane debris this year alone. Among the 98 personal items found on the glacier are a seven and a queen of spades, a pair of shoes, a 1944 map of the Anchorage area, two chess pieces and a camera, although it does not there is no movie in it.
The remains and artifacts are sent to Dover Air Force Base in Delaware for analysis. Items that can be identified as belonging to someone are returned to the family of the deceased.
"The closure for these families, that's really what it was for me, because it's been 69 years. For me knowing that I am part of that operation where someone lost their family 69 years ago and we are still looking. We will try to find each person. He's a lot taller than me, "said McFarlande. "We're not going to leave anyone behind. It doesn't matter how long it's been.