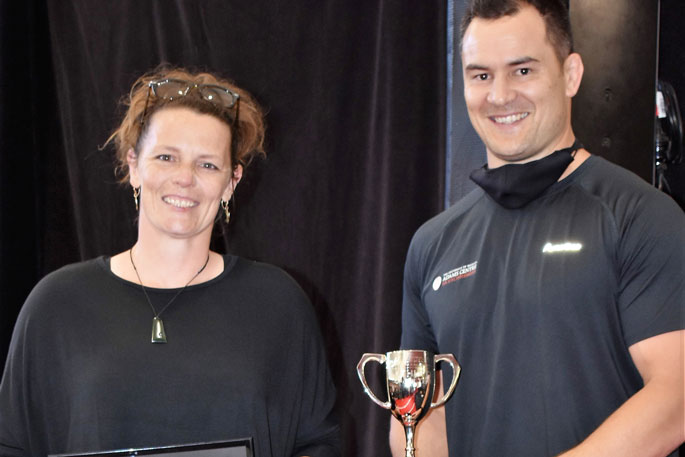 SunLive – Sports excellence rewarded at the Adams Center
International hockey referee Kelly Hudson, Adams Center for High Performance athlete of the year.
Adams Academy athletes gathered for their year-end awards on Friday.
Top honors went to international hockey referee Kelly Hudson who received the Industrial Athlete of the Year award for his performance on the international stage.
Hudson was recognized for refereeing her 150th international test at the recent Tokyo Olympics, her third Olympics.
Kelly is currently on the top panel of international referees around the world and works for the Tauranga Hockey Association as the Officials Development Officer and is responsible for referee development in the Bay of Plenty.
The athlete of the year honor is closely followed by emerging athlete of the year Xplosive Supplements Tauranga, which went to New Zealand representative in surf, waterpolo and swimming lifesaving Gus Shivnan. Shivnan is part of the 2021-2022 Surf Rescue High Performance Team, NZ National Swim Team and NZ Born 04 'Waterpolo Team.
Emerging Athlete of the Year Gus Shivnan and Adams Academy strength and conditioning coach Jarvy Aoake.
Smiths Sport Shoes Tauranga Junior Emerging Athlete of the Year (under 20 males) was awarded to freeride ski athlete Luke McConnell who was selected to the New Zealand squad for the Junior Freeride World Championships in Austria in January 2022.
Smiths Sport Shoes Tauranga Junior Emerging Athlete of the Year (under 20 female) was awarded to Anna Brock for her vast achievements in surfing at the regional and national levels, including winning the overall U16 Girls Billabong Grom Series in 2021 and the second overall in the 2021 NZ junior series.
Other accolades given at the evening included: The Zespri Road to Recovery Award for his dedication to recovery from injury, which went to Christie Yule for rugby. The Zespri Resilience Award for his persistence in training after a year of canceled events went to Evolution Aquatics swimmer Isaac Williams and the Industrial Athletic Mahi Award went to wrestler Isaac Dobbs. Five stagecoach awards were presented to Eva Morris, synchronized swimming, Kylen Sholmann, volleyball and beach volleyball, Tash Wakelin and Amelia Harvey, cricket, and Brooke Summerfield, track and field – track and field.
Several other top athletes from the Academy were also recognized for their performance and diligence in their training and sport discipline during the awards night.
All recognized athletes perform internationally, nationally and regionally and are part of Adams Academy's strong team of 103 athletes.
The Academy is a high performance program based at the UoW Adams Center for High Performance that supports aspiring and professional Bay of Plenty athletes with all the support services they need to become future World Champions; many are our future Olympians.