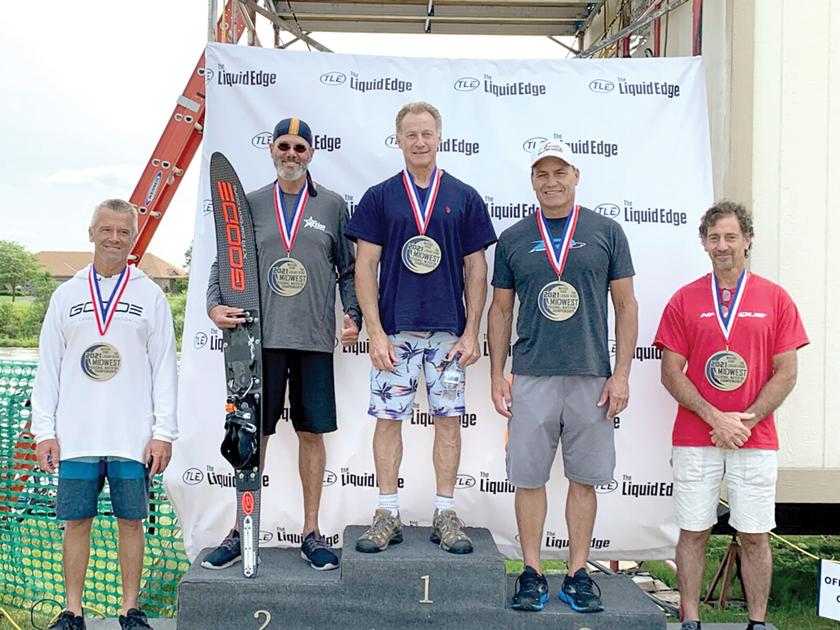 Two residents head to the national water ski | Lifestyles
Two local residents prepare to compete in the GOODE National Water Ski Championships August 8-14 in Wilmington, Illinois.
Doug Rooker, who lives in Bennett Lake, will compete in the men's six slalom division, and Mark Johnson, a 50-year-old Byron resident who grew up in Lobdell Lake, will compete in the men's four slalom division.
They are best friends who have been water skiing together for decades. They qualified by participating in previous tournaments. Johnson and Rooker both came first in their division at the 3-event Michigan State Championships on July 24 near Grand Rapids. At the Liquid Edge Midwest Regional Water Ski Championships in Illinois from July 30 to August 30. 1, Johnson came first in his division and Rooker placed second.
Rooker, who started water skiing at the age of 6, doesn't know how many times he has won his division at the regionals.
"I've been on the podium at the regional championships about eight or nine times," he said. In 2019, he took first place at the regional, and that year was the first year he was on the podium at the national, when he took fifth place. They did not compete in 2020 due to the pandemic.
"It was exciting. It gets pretty tough and pretty hellish at this time of the season. You are preparing your practices and preparing for tournaments. It's a passion," he said.
The slalom event involves skiing around six buoys while being pulled by a speedboat with a 75-foot rope. When the skiers complete a pass, the rope is shortened. Scores are calculated based on the length of the rope and the number of buoys it can cross. The world record is 43 feet away, which refers to the number of feet over which the rope is shortened.
Rooker can generally go 38 feet of distance, and he said he was able to go 39 feet of distance.
"Mark crushed it this year," Rooker said. Johnson, who has won his state division 25 times, can cross buoys 39 and a half feet away.
The two have been water skiing partners since the early 1990s. Rooker said it was important to have someone reliable to pull the boat.
"We are best friends. There is no doubt about it. It is a passion that we share. We understand each other perfectly, "Johnson said. Both paid tribute to Chris O'Connell, a well-known water skier in the region who mentors them in the sport.
"I love the water," Rooker said, adding that he was a competitive swimmer in high school and also went scuba diving. "I love living on the lake and being on the water."
He had an uncle who waterskied. When Rooker was a kid they couldn't find skis that fit him, so he wore tennis shoes in the bindings. Now her daughter is also in sports.
"It's a passion that she acquired just like me. We kind of call ourselves buoy junkies, "he said.
Rooker and Johnson do a rigorous off-season workout, including strength training, cardio, and more. "It keeps me young. It keeps me in the gym in the winter, "Johnson said.
They get into the water in winter as early as possible. In 2020, they were able to ski Lake Lobdell every month of the year. In winter, they break the ice near the boat launch to melt it faster. In the summer, they train three to four times a week, weather permitting. It was harder this year with the rain. They thanked Jason Kenyon, owner of the Tivoli Gardens Water Ski Club, where they do most of their practices.
With the national championships coming up, Rooker said he was nervous like any other competitor.
Johnson is ranked fourth and Rooker sixth. Rankings are based on tournament scores, and the highest ranked people compete last.
"I'm the sixth seed this year in my division right now. Ideally, I would like to at least match my ranking and finish sixth, but I would like to get on the podium like I did in 2019. It's a bit hard, long and arduous. I'm optimistic, "Rooker said.
Rooker would like to thank MasterCraft and Action Water Sports for making him a member of the MasterCraft Promo program.
"I definitely have to thank my wife, Karen, and my family for being so patient and participating in the tournaments. Without their support and understanding, I certainly wouldn't do this, "Rooker said.
He added that Johnson has a good chance of winning the first this year at the national championships.
Johnson, who has been waterskiing since his teenage years, said the regional races were a "fantastic weekend" but also stressful. It was the first time he was the number one seeded skier in his division at the regional championships, so he watched everyone compete before him. He said passing was an "amazing feeling."
"It was so emotional to do," he said. "It was very rewarding. Lots of hard work.
His best pass was 39 and a half with a buoy and a half clear. With the boat going at 65 mph, a pass takes about 16 to 17 seconds.
"I feel pretty good about my chances of at least placing (at the national championships) against some of the best talent in the country," he said. "You face the best of the best. These guys are all fantastic skiers. It takes a little luck. I think we're all pretty close this year. I am delighted to have the opportunity to compete. It is an honor."
Johnson is sponsored by GOODE Water Skis.