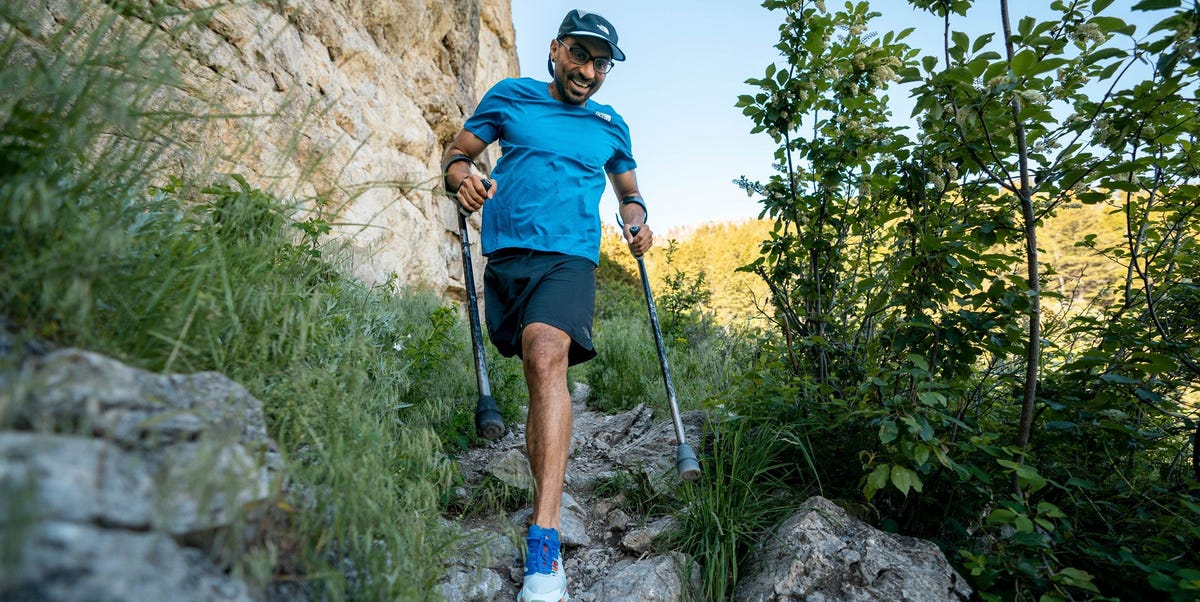 Vasu Sojitra does not want to be your inspiration
At the top of Montana's Big Sky ski resort is the 11,166-foot Lone Peak, the crux of the infamous trail race known as the Rut. The scree-filled approach is aptly named Bone Crusher, an unnervingly exposed ridgeline that gains over 2,000 feet in less than three miles. For Vasu Sojitra, it was just another great day outside. After logging 50 miles in his only week of dedicated training for the 28K course, this North Face-sponsored multi-sport athlete tapered for just five days before devouring the Bone Crusher and crossing the finish line the year last, sweaty hands covered in RockTape clutching her crutches after half past seven.
"It wasn't a full effort off the couch, but I strongly don't recommend it," the 30-year-old Bozeman resident laughs. "But my 'off the couch' can be on a different level than other people. »
There's not much about Sojitra that's on the same level as the others. As most of the Rut runners cautiously descended the scree fields exposed on the descent from Lone Peak, Sojitra scampered from flat rock to flat rock, balancing his crutches and passing runners who stared in disbelief at the athlete fly downhill on his one leg. "I told people to just go faster than the rocks that were going to hit the ankles," he says jokingly but not jokingly.
It's no surprise that Sojitra gave advice to others while stubbornly tackling a running course that many, including himself, previously thought was too difficult for him. As the first adaptive endurance athlete on The North Face's roster of sponsors, Sojitra is using that good humor and singular determination to change the narrative around who belongs in trail running and the wider world of mountain sports. .
Born in Connecticut to parents who emigrated from India, Sojitra contracted a blood infection called sepsis when he was nine months old. Doctors thought it would spread, so they amputated his right leg just below the hip. After nearly six months, the hospital discharged him and his parents chose to return to India for more family support. He spent five years in Gujarat, a state on the west coast of the country, trailing behind his older brother and breaking or exceeding his prosthetic limb forever. Eventually, when Sojitra was 7, his family moved to Connecticut, where his parents had access to better medical equipment for their son.
It was there, while playing with the children around his building, that he began to notice people with skin like his in what was then nearly 80% white. More importantly, he saw himself in their outdoor activities and experiences. As he got older, Sojitra became more aware of representation within his communities and says he connected with the 1999 Disney Channel movie. Johnny Tsunami, about a Hawaiian surfer whose family moves to Vermont. "I felt validated," Sojitra says of seeing the character's experience adapt to New England culture.
Sojitra immersed himself in sports as a child, starting with soccer in India and adding skateboarding and skiing after returning to the United States. Around the age of 9, he grew tired of his cumbersome prosthetic leg and practiced using forearm crutches with open wrists to grasp his arms. Although more strenuous on the upper body, forearm crutches provide more control than armpit crutches and make it easier for athletes to navigate rough terrain. Sojitra now credits his stubbornness and early adoption of forearm crutches with allowing him to embark on his current adventures. "It's like I have old-fashioned muscles now," he says. "You know how your dad is so ridiculously strong without ever training and you're like, 'Where the hell did that come from? My muscles are like that. I've been doing this for so long that it's really ingrained in my body.
Sojitra was so passionate about sports that his love of skiing brought him to Vermont, as did Johnny Tsunami, where he earned a degree in mechanical engineering from the University of Vermont. Later, that same love of skiing moved him west to Bozeman, Montana, where he joined a local soccer league. One day after spring training in 2018, a friend invited him on a trail. "It was a three-mile run, and it kicked my ass," Sojitra says. But moving quickly on her crutches and jogging with her leg, Sojitra felt the glow of a runner's high. He started hitting the trails more often and challenging himself to go further.
He racked up his mileage over that summer, topping 30-mile days. "It was definitely a steep learning curve," he says, noting that his hands were still blistered, raw and covered in hot spots. Because disabled athletes have so few resources to navigate unorthodox mountain travel, Sojitra put his engineering degree to work and fashioned his own gear. Dubbed "Vasu's Hand Shoes", he created a hand wrap technique using a combination of DonJoy padded tape and RockTape kinesiology wrap. The system reduces friction and minimizes the pressure points that arise on his hands after hours on the crutch.
Even though Sojitra likes to run just for the fun of running, he also runs to prepare for his other activities in the mountains. In June 2021, two months before the Rut, he and fellow adaptive athlete Pete McAfee completed the first disabled ski descent of 20,310 feet Denali, the highest peak in North America. Long runs with friends along Montana's Gallatin Crest Trail and loops through the state's Crazy Mountains were key parts of Sojitra's Denali prep.
Sojitra wants her accomplishments on the track to help dismantle the many barriers that other people with disabilities face. He understands that most people are excited to see him there, but their excitement puts it into perspective: he's unique because there isn't enough representation of people with disabilities.
"I was always dreading crossing the finish line and hearing all the 'It's good for you!' and 'Yeah, mate!' and all the other condescending things people say," Sojitra says. "It's bittersweet. If you're truly inspired by me, then show it by breaking down barriers so I'm not the only disabled person of color to compete in races like this. That way, he says, we can normalize disability and not make people with disabilities feel different from others or exceptional.
Sojitra believes that the barriers to participation are not the disabilities themselves; instead, the biggest barriers are those unknowingly put in place by non-disabled people, such as exorbitant ride fees. Statistically, people with disabilities are more likely to be hit by unemployment and low wages due to limited access to health care and medical equipment, so accommodations such as declining enrollment fees can help. . Sojitra says race directors should put more effort into building that relationship with those communities in their areas.
Sojitra also notes that popular trail races often fill up minutes after registration opens, creating a massive barrier for athletes who are unaware, which often includes people with disabilities. "A lot of word of mouth in the trail running community is still white to white and non-disabled to non-disabled," he says. "These variables really affect decision-making when it comes to participating in one of these events." To combat this for the 2022 edition in September, the Rut worked with Inclusive Outdoors Project (the Bozeman-based company of Sojitra) to reserve 40 race spots for runners from historically underrepresented communities.
"The culture of the running world is incredibly rigid," says Sojitra. "We talk about finding freedom in the hills, but ironically we create spaces that are only meant for a certain person." People generally have good intentions, he says, but few trail races have made changes to better serve underrepresented athletes.
"The key is to let other voices in, integrate different perspectives and build cultural cohesion," says Sojitra. "That's when the barriers will be removed and things like money and transportation will become very visible."
Change is happening, albeit slowly. Thanks to its large platform – 53,000+ Instagram followers – many consider Sojitra a megaphone for adaptive athletes and people of color. But he is quick to acknowledge that he is just one of many working to create more accessibility in this space. "I stand on the shoulders of giants who came before me," he says of activists like Judith Heumann and Grace Lee Boggs. "I personify a lot of those experiences of our community, but I don't want to make any of that about me."
"I don't need to keep boosting my ego and pumping up my chest," he says. "I'd rather borrow a phrase from a lot of black revolutionary women and say, 'I'd rather lift as I climb and sit on top with everyone else. Let's reduce this share of inspiration and inspire others to create more accessible spaces.