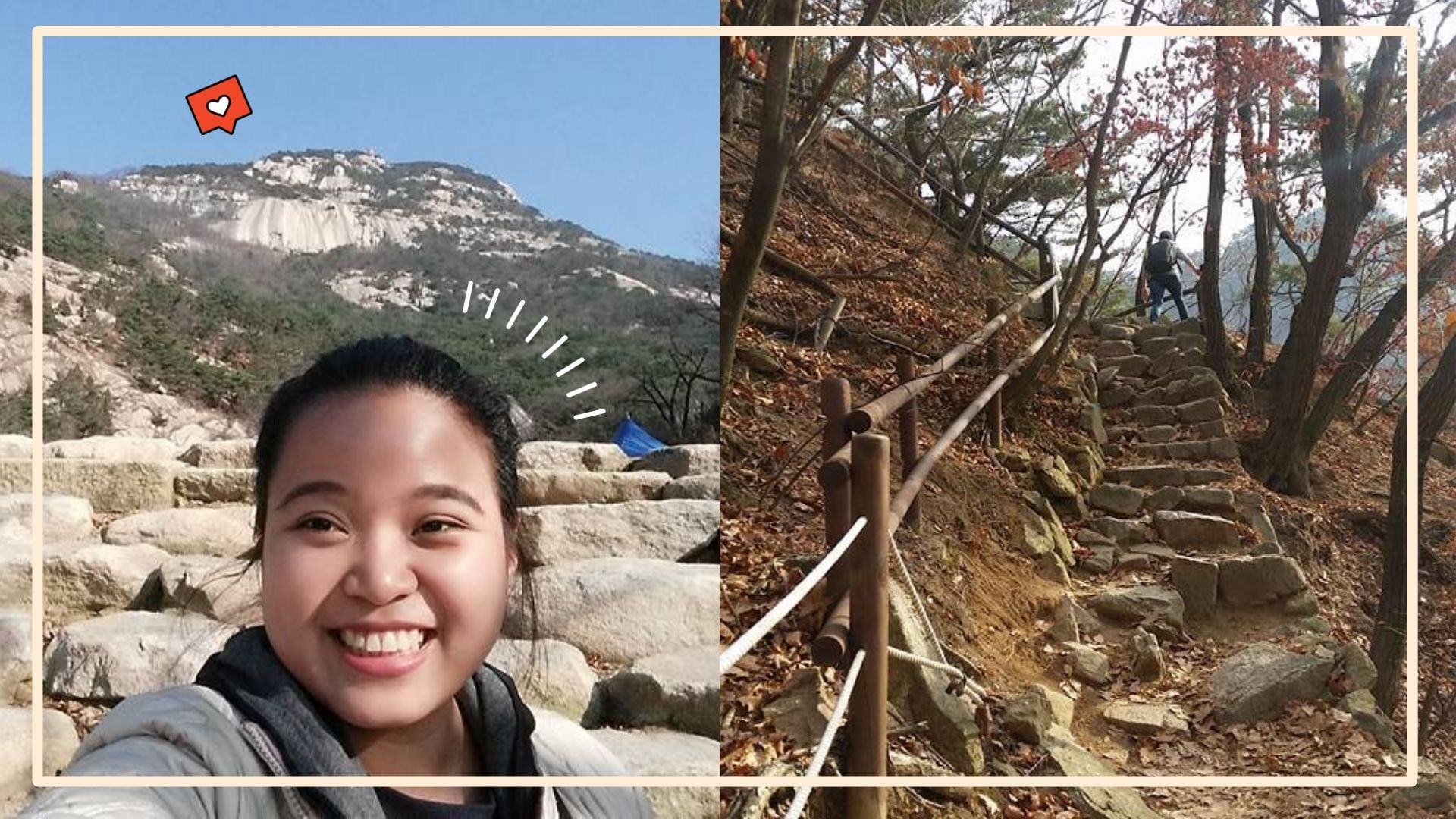 What it's really like to climb a mountain in South Korea
In 2016, I made one of the craziest but most rewarding decisions yet: I took two months off for an unpaid internship in South Korea. It was really on a whim, but when I walked in and all the stars lined up I vowed to make the trip sulit. One of the things that was on my imaginary to-do list was to climb a mountain there. A few years ago I had done a memorable hike with friends in Rizal so I wondered if the experience would be similar.
Plan the hike and choose a mountain
My main reason for wanting to hike in South Korea? I had a pair of mountaineering boots from this hike in the Philippines that I wanted to do sulit. I also watched a lot of K-Dramas, which made me think the activity was popular in the Land of the Morning Calm. Plus, where else to get the best views than atop a mountain, right? So I packed my Merrell shoes and blocked one of my weekends.
Continue reading below ↓
Continue reading below ↓
Recommended Videos
I chose Bukhansan for three reasons. First, it's in Seoul. It's so accessible and only a few minutes from the city. All you had to do was take a subway train, take a bus, and walk a bit to get to the starting point. (For this mountain in Rizal we had to travel for a few hours.) Second, the articles I read said it was suitable for beginners. And finally, it was the highest mountain in the city. Go big or go home!
Continue reading below ↓
I also planned to go alone, but luckily I made a friend during my internship. She agreed to join me on the hike so she could take pictures, and it was one of the experiences that solidified our friendship. I wasn't an ARMY at the time, but she was, and she gave me a Wings album — it was how close we were after everything we went through during my stay.
Synchronization issues
Experts say spring is the best time to hike as the weather is cool, it rarely rains, and the mountain greenery is lush. Starting early in the morning is also ideal, and you should plan your trip around the average number of hours it takes to hike the mountain you choose.
Continue reading below ↓
Our hike was during the last days of fall. Most of the leaves have fallen and temperatures drop to 10 ° C. According to my research, it takes about four to five hours to climb Bukhansan. Honestly, I forgot what time we started but the sun was up. By the time we finished the sun was gone. If you want to know how tiring it was, here's my selfie barometer from the start of the hike, the middle of our ascent, and the time we were almost at the top.
Is Bukhansan really suitable for beginners?
I would respectfully disagree with whoever said it was. This. Was. So. Hard. Okay, I blame myself for choosing the location and putting my heart into reaching the highest point in Bukhansan, Baegundae peak. 836.5 meters high or 2,744 ft. lang naman siya, besties. My phone tracker said I walked 29,000 steps or 10 kilometers that day.
Continue reading below ↓
I guess the reason they call it 'beginner friendly' is the well maintained path to the top. I really admire the way South Korea maintains its natural parks. The climb is a mixture of clear paths and stairs. You really had to have stamina to overcome everything. I missed that, because of my office job and my lazy butt.
Continue reading below ↓
Reach the top
We spent a couple of hours breathlessly climbing and a few stops to rest our legs, drink some water and have a bite of the gimbap we packed. As we got closer to the top the paths became more natural. Instead of obvious stairs and wide paths were narrow but carefully laid out rocks. There were always wooden safety gates and ropes to hang on. Also, there were a lot of hikers you could follow and the paths were obvious so you really wouldn't get lost.
You can also see the other peaks of the mountain by climbing the highest point.
Continue reading below ↓
When we approached the top there was this huge boulder beyond the safety rail that some hikers bravely had picnics or photo ops on. This is one of those cliffs that will definitely kill you when you slide over it. I loved my life, so I didn't risk it by going. I was happy to watch them from where I was sure it was safe.
Continue reading below ↓
Meanwhile, my friend and I were relishing the view from Baegundae Peak. All the effort seemed to be worth it. I mean, it was like we could see the whole city!
We also had an adrenaline rush when we got to the top. As if we don't curse our ahjumma-like bodies during the exhausting hike.
Continue reading below ↓
And there was a flag at the top, as if to make you appreciate where you were. And I really did.
The descent: It was really all downhill from there
Once we had refueled from the top we started our descent, and so far thank heaven we have done well. What happened was the sun started to set and it was hard for us to really see the way down. The many hikers we were following are all but gone and I think we were both panicking in the middle of our silent attempt to find our way.
Continue reading below ↓
And there we are, we came across the office of the mountain guards. Let me tell you: a lot of real Korean officers are cute. Mountain rangers, apparently, were no exception. And maybe it's because we were so grateful that they found us, but I thought they were so, so beautiful, worthy of playing in a K drama. They guided us on our descent.
Continue reading below ↓
It was so dark and we were very far from the starting point by then. The rangers took pity on us, I guess, and offered to drive us in their pickup into town. I swear, the uniformed professionals in South Korea aren't shady, so we didn't hesitate to get behind the wheel. And after a few moments, we were sitting on a bus to come home and reflect on our lives. We were too young to die, thank goodness.
Other mountains in South Korea
After this experience, I knew that I would be more careful in choosing the destinations. There are so many real beginner-friendly hikes in and around town. I suggest starting with Naksan Park or Namsan Tower. Once you are ready, you can explore other mountains like Suraksan and Yongmasan. There is also the scenic Inwangsan, where you can walk along an ancient fortress wall. For the best fall foliage sightings outside of Seoul, there are also sightseeing packages to Seoraksan and Naejangsan.
Continue reading below ↓
In case you were wondering, Jirisan is a real mountain. It is located in the southern part of South Korea and spans three provinces (North, South Jeolla and South Gyeongsang). The summit is more than double that of Bukhansan: a whopping 1,915 meters (6,283 feet). And if you plan to hike to the top, it might take three days. Legitimate.
On the other hand, Jeju Island is famous for having the highest mountain in South Korea, Hallasan. If you looked My name is soon Kim Sam, you will know this emblematic mountain. When my husband and I were there, however, we didn't have enough time to visit and certainly not enough energy to climb that high. But we were able to get to another scenic mountain: Seongsan Ilchulbong (Sunrise Peak).
Continue reading below ↓
You had to pay a small entrance fee (2,000 won or around 90P) and do an hour round trip hike, but it was well worth it! It will be like taking the craziest stairs and being rewarded with a great view at the top.
The scenes were TDF, and it was like you were in New Zealand. It also pays to have a husband on Instagram.
Continue reading below ↓
This is a hike that I would love to repeat, and I don't think we will need Jirisan rangers to save us from there.