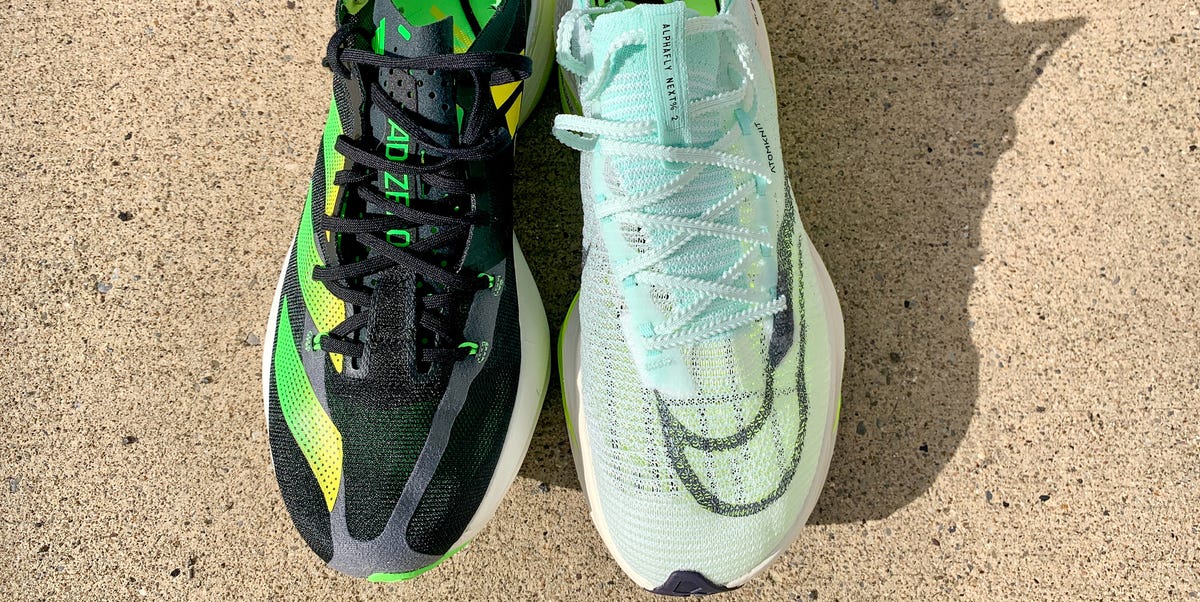 Which Marathon shoe leads the pack?
Race day is a special day for many running enthusiasts. This desire to set your best time yet and cross the finish line for an unparalleled sense of accomplishment is why marathons are one of the most popular fitness activities. In order to get the most out of your 26.2, however, you need the right gear, which means walking in the right shoes.
We've become familiar with a number of race-ready sneakers over the years, but today's performance models are a bit more advanced than those of yesteryear. Two of the most notable silhouettes in the running category, the Nike Air Zoom Alphafly Next%2 and the Adidas Adizero Adios Pro 3, have proven themselves through numerous pro victories and a few world records.
But of these two impressive marathon runners, which shoe comes out on top? To find out, I tested both silhouettes over multiple distances and paces, highlighting key notes like energy return, comfort, and durability. I'm also training for an upcoming 8k run, so wanted to see if these high-end running shoes would work for runs that don't go over the 10-mile mark. Now let's see which kick is best equipped for the victory lane and which silhouette is most in line with the middle of the pack.
The contenders for the best marathon shoe
Nike Air Zoom Alphafly Next% 2
Nike's Alphafly Next % range is at the forefront of running's latest great moment, including the world's first marathon under two hours. This updated silhouette continues those innovations in a premium construction that features additional ZoomX foam in the midsole – the brand's lightest offering – as well as two Zoom Air units in the forefoot. Additionally, the Atomknit upper provides an extremely lightweight sock-like fit, allowing for easier pickups on the back half of a marathon course.
While the upper is well made for race days, it's not the most durable or protective material out there. Due to its ultra-thin design, this material has little resistance to rain or weather. So if your event is on an overcast day, plan ahead with the appropriate socks.
Adidas Adizero Adios Pro 3
Think of these sneakers as the deluxe or limited models in the fast-paced errand category. Boasting Lightstrike Pro cushioning foam and Energyrod technology for excellent energy return, these kicks are ready for long rides of 26.2 miles and beyond. The Continental rubber outsole also provides great grip on multiple surfaces and turns, which only adds to the security and confidence you feel underfoot.
The Adios Pro 3 are exceptional running shoes for a multitude of reasons, but the one thing they lack is a proper lacing system. To find that locked-in feel you'd want on race day, the laces take some getting used to. Yet there's a reason 60% of World Major Marathon 2021 victories have been won by athletes carrying kicks from the Adios Pro stable.
How to choose the right marathon shoe
When looking at race day specific footwear, it is important to understand that these sneakers are designed for one purpose: running. It's not ideal to buy marathon running shoes for training because running non-stop in your marathon shoes could alter your natural gait, limit your performance and crush your times. Additionally, the foams and materials in each marathon shoe are designed for racing only, so prolonged use could lead to unnecessary wear and tear.
Now if you do want to invest in marathon ready kicks, there are a few factors to consider. First of all, you need to pay attention to the total weight of your running shoes. Because you'll get a lot of pickups on the extended running track, you'll want a shoe that's lightweight and less taxing on your body – you wouldn't want to run a marathon in a bulky pair of hiking shoes, would you?
Additionally, you want to find a running shoe that provides enough cushioning to keep you comfortable from the start line to the finish line. For example, the Alphafly Next % 2 and Adios Pro 3 offer plenty of comfort while maintaining that desirable lightweight frame. Other max-cushion runners might be able to make your first few miles feel like you're running on clouds, but that extra comfort can add unnecessary weight.
When it comes to carbon footpegs, you don't have to pay that much attention, but the technology is popular in racing shoes for a reason. Carbon plated shoes can provide improved energy return and forward propulsion. Think of it as a diving board for your step – when you push off, you project yourself farther than you would from, say, the concrete edge of the pool.
Finally, and finally, you want your race day trainers to be as comfortable as your everyday trainers, so opt for uppers and lacing systems that give a sleek fit without feeling too constricting.
Test 1: Driving comfort
The Alphafly Next %2 and Adios Pro 3 were comfortable and fun shoes to run in, especially as I honed my pace for my next race day. The silhouettes started showing their differences, however, once I started mixing up the distances of my routes. The Nikes were great options for a number of jogs, and I felt the full carbon plate was easy to engage, giving each step that extra touch.
The Adios Pro 3, on the other hand, showed their merit once my mileage hit the 12 mile mark. The plush Lightstrike Pro midsole provided ample cushioning that kept my feet comfortable, and the geometry kept everything stable when I started to tire. Anything shorter than 12 miles was still nice, but there was some stiffness present, especially when picking up my pace.
Test 2: energy feedback
As stated above, the full plate featured in the Alphafly Next%2s was my favorite to work with due to its easy activation. Picking up the pace or really going for a new split was almost effortless, and you can definitely see how these sneakers have become running staples.
The Adios Pro 3 also feature a carbon plate, but it's housed in the heel, and instead the shoe relies on its Energyrod technology for enhanced propulsion. I couldn't get a similar response from this setup, but I still felt its presence underfoot. Additionally, Energyrods are designed to mimic metatarsal bones, which creates a different feel compared to a full carbon plate. While it certainly didn't propel me forward like the Nikes, I still think this silhouette benefits from the inclusion, and I really liked the subtle jolt forward over longer distances.
Test 3: Superior construction
I'll start by saying that neither Nike nor Adidas upper are the most durable materials in the running shoe game, and I absolutely dreaded training in less than ideal weather conditions. Understanding this, however, I focused on the comfort provided and felt that the Atomknit construction of the Alphafly Next%2 was the best for my foot geometry. I really liked the dynamic sock-like design that creates a bootie over the top, and the serrated laces were easy enough to lock in place for added security.
While running in the Adios Pro 3 I didn't feel they were completely uncomfortable, but the material is a bit more abrasive and rough than what Nike offers. Also, there is little flex in the toe box, which I was fine with, but athletes with wider feet may find it a bit too limiting.
Best Marathon Running Shoe: Nike Air Zoom Alphafly Next%2
All in all, I couldn't have been more impressed with the latest great Nike shoe. From the high-end energy return to the comfortable, sleek, and downright beautiful upper, there's a lot to praise with the Alphafly Next % 2s. While I think they're a bit of a stretch for my next 8k, any serious runner who's willing to shell out top dollar for the best sneakers should have them at the top of their list.
Get the Nike Air Zoom Alphafly Next %2 here
SHOP NOW (NIKE) | SHOP NOW (DICK'S SPORTING GOODS) | BUY NOW (SCHEELS)
Best Marathon Running Shoe for Maintained Running Pace: Adidas Adizero Adios Pro 3
The Adidas Adios Pro 3 are still great running shoes, but a bit more specialized in my opinion. As I noted in my testing, the well-cushioned midsole and energy shanks really started to show their power over longer distances, allowing me to focus less on my feet and more on my strides. Faster paces created a stiffer feel underfoot, but slower, more sustained pace over longer distances is where this shoe really is a workhorse. If you still have a half marathon or full marathon on your schedule, you can definitely run with confidence in these awesome three-stripe shoes.
Get the Adidas Adizero Adios Pro 3 here
SHOP NOW (ADIDAS) | BUY NOW (WAREHOUSE IN OPERATION) | BUY NOW (ROAD RUNNER SPORTS)